Augustine Frizzell was on her own by the time she was 15, a high school dropout sharing a ramshackle house in Garland with her best friend Jami and Jami's older brother Daniel. They didn't have much and didn't do much to change that. The girls waitressed at IHOP and Denny's when they weren't coming up with elaborate excuses to avoid doing so. They'd hit each other in the face with a box to simulate a car wreck, try to pass off mosquito bites as chicken pox, make themselves throw up so they could claim food poisoning. Whatever it took to keep the syrup out of their shoes.
Mostly, they drank and did drugs. In their bedroom, Augustine and Jami had a big piece of glass they'd salvaged from a broken window at the back of the rental. They would listen to the Pulp Fiction soundtrack—"That was the hot music at the time," Augustine says—and have "cocaine races," contests to see who could snort a long line off the glass the quickest. No one ever lost.
They had so little between them that the glass qualified as a prized possession. The living room had two TVs but only one worked. It was stacked on top of the other, an old console job, heavy and wooden, with a tube the size of a dorm fridge, better as furniture than it ever was as a TV. Augustine's favorite story from that part of her life involves those TVs. She liked telling it at first because it happened to be true, even if no one could believe it, and later because it became important to everything else.
"After I'd told it so many times, I finally decided to write it down. And when I started writing it, I realized how much I had to say."
One night, some friends of friends came over to party and play video games. The next morning, one of those friends of friends, a guy named Tony, came back to pull the dumbest burglary in the history of dumb burglaries.
A drug deal, worked out over video games, had gone sideways. Daniel had taken Tony's money to their supposed connection and had been held up at gunpoint, losing everything. But Tony thought they were trying to scam him. So he returned to the house at 7 am—maybe with a friend, maybe with his brother; Augustine can't remember which—and broke down the door in an attempt to recoup his cash. "They took a bunch of stupid shit," she says.
The stupidest: the impossibly bulky, completely worthless console TV.
"He lifted the good TV off—the one he had been using the night before to play video games—and picked up the old shitty TV and waddled out by himself and put it in the back of his truck," she says. "We were like, 'You're doing us a favor.' "
Augustine has been telling the tale of Tony and the stolen TV for more than two decades. She turned 39 at the end of July. After she got her life together, a few years after the burglary, it became a funny anecdote about her misspent youth and a measuring stick to show how much her life had changed since then.
The story is working as both as she tells it to me late one night in May. It's after midnight in Dallas, and she's on the phone from Los Angeles, where she has temporarily relocated to direct the pilot for an HBO series called Euphoria. A few miles away from the porch where I'm talking to her is the Lakewood home she shares with her husband, the director David Lowery (Pete's Dragon, Ain't Them Bodies Saints).
Augustine is calling me from L.A. because the story of the burglary became something more. Because she made it into something more. "After I'd told it so many times, I finally decided to write it down," she says. That was 10 years ago. "And when I started writing it, I realized how much I had to say."
She had already begun making her own short films. This, she thought, could be her first feature, a film that followed two girls like her and Jami. She wrote a script that she called Never Goin' Back, filled with more of her teenage misadventures, pulled from journals and the short stories she wrote to clear her mind. With a tiny, mostly crowdfunded budget and help from her producer friend Liz Cardenas, she filmed it around Dallas over 16 days in the fall of 2014.
And then, when it was done and a rough cut had been assembled—after she had come all the way from having her TV stolen to directing a fictional version of the crime—Augustine threw away almost all of the film. She had to start over one more time to get from there to where she is now.
---
Augustine has never been a stranger to new starts. Growing up, her father Marlon chased jobs in radio while trying to make a career for himself as a singer-songwriter, with only occasional success. That meant they moved around a lot, mostly in Garland but also Tennessee and Florida. She can think of at least five houses in Garland alone.
"I don't know, honestly, why people who are poor move as much as they do," she says. "But they do."
Marlon is the son of legendary country singer Lefty Frizzell. (Her famous grandfather died a few years before Augustine was born.) Her father grew up in the lawless manner you'd expect from someone raised by the hard-living man behind honky-tonk classics like "If You've Got the Money, I've Got the Time." He applied that same hands-off parenting style to his daughter as they bounced from one house to another and he continued to try to find his own way. Augustine was free to do pretty much whatever she wanted, especially after her parents split up.
By the time she entered 10th grade, what little structure she had fell away completely. She finished her freshman year at South Garland High, then went to live with her father in Florida. It was a disaster. "He was incapable of watching me," she says. Augustine started skipping school and dabbling with drugs. After a brief stay with Marlon, she decided to go back to Texas. But there wasn't space for her at her mom's house—her room had been rented out—so Augustine ended up with Jami and Daniel in that rundown rental on Malibu Drive.
There could be versions of Augustine's story that never really leave that house. They merely exchange the roommates for a husband and too many kids and a better view of the poverty line. You don't have to look very hard in Garland to find these stories. There is a reason the city has popped up as an easy punchline in both Three Kings and Zombieland, a synonym for a dead end.
But when she was 18, Augustine was ready to move on. She stopped doing drugs and enrolled in Richland College. She also started to pursue her junior-high dream of being a singer. She'd had to ignore it for years. Simply surviving took all of her focus.
There always seems to be an "and then" in Augustine's stories, some unexpected but inevitable plot complication. This is a big one. And then, not long after beginning classes at Richland, she ran into an old friend from middle school on campus. They began dating, and their rekindled relationship was intense. As in: two weeks later, she was pregnant. Another new start in the middle of another new start.
Augustine had never wanted a family, had no desire to get married or have children. She'd never seen a version of that scenario that worked. "But the minute I took the test, I understood love," she says. "And that sounds so cheesy, but I understood loving so strongly and so deeply in a way that I'd never known before."
While her pregnancy may have changed her opinion on family, it had no effect on her newly formed plan. "I made a resolve to continue on the path that I just started," she says, "which was to eventually make something of your life." Soon she had a traveling partner: her daughter Atheena.
Augustine still wanted to be a singer, but she had a bigger problem than being a young mother. Which, to be clear, wasn't as desperate as those two words can sometimes imply. Atheena's father, his mom, and Augustine's mother were very involved in helping raise Atheena. It wasn't easy, no, but she wasn't alone.
But, so, Augustine's problem: she was terrified to get onstage. She decided to confront her fear by taking an acting class. Acting immediately felt different, exciting, and the path away from Malibu Drive took a turn. Her teacher ran a murder mystery dinner theater and encouraged her to come read for it. She did and landed a part.
"I did that for many years," she says. "That's how I got into acting. I still had horrible stage fright, but it was manageable because there's less pressure if you have a character to latch onto. It's the character that's doing the thing."
Her path took on a more definite shape then, starting to point toward somewhere instead of merely away from somewhere else. Acting led to jobs behind the camera. It led to Augustine making her own films. And it led to David Lowery.
---
Augustine met David in 2001, when he cast her in a short film he was making called Still. They dated briefly then, but it wasn't quite the right time for them.
"I'd always thought very fondly of him," Augustine says. "I referred to him as 'my one true love David.' Just because I'd felt so strongly for him that first time and just had such great experiences with him during that time."
They didn't see each other again for eight years. David would write to her from time to time, mostly to invite her to screenings of his films, but Augustine could never make it. (He does recall also writing her once after having a dream about her the night before.) When his first feature, St. Nick, was set to play at the AFI Dallas International Film Festival, he again asked her to come see it (and him). This time, she could.
She remembers the date: April 1, 2009. After the movie, they went to dinner at Spiral Diner in Oak Cliff. Before David left that night to go back to Los Angeles, where he was living at the time, he told Augustine he was going to send her a song. He thought she should make a video for it.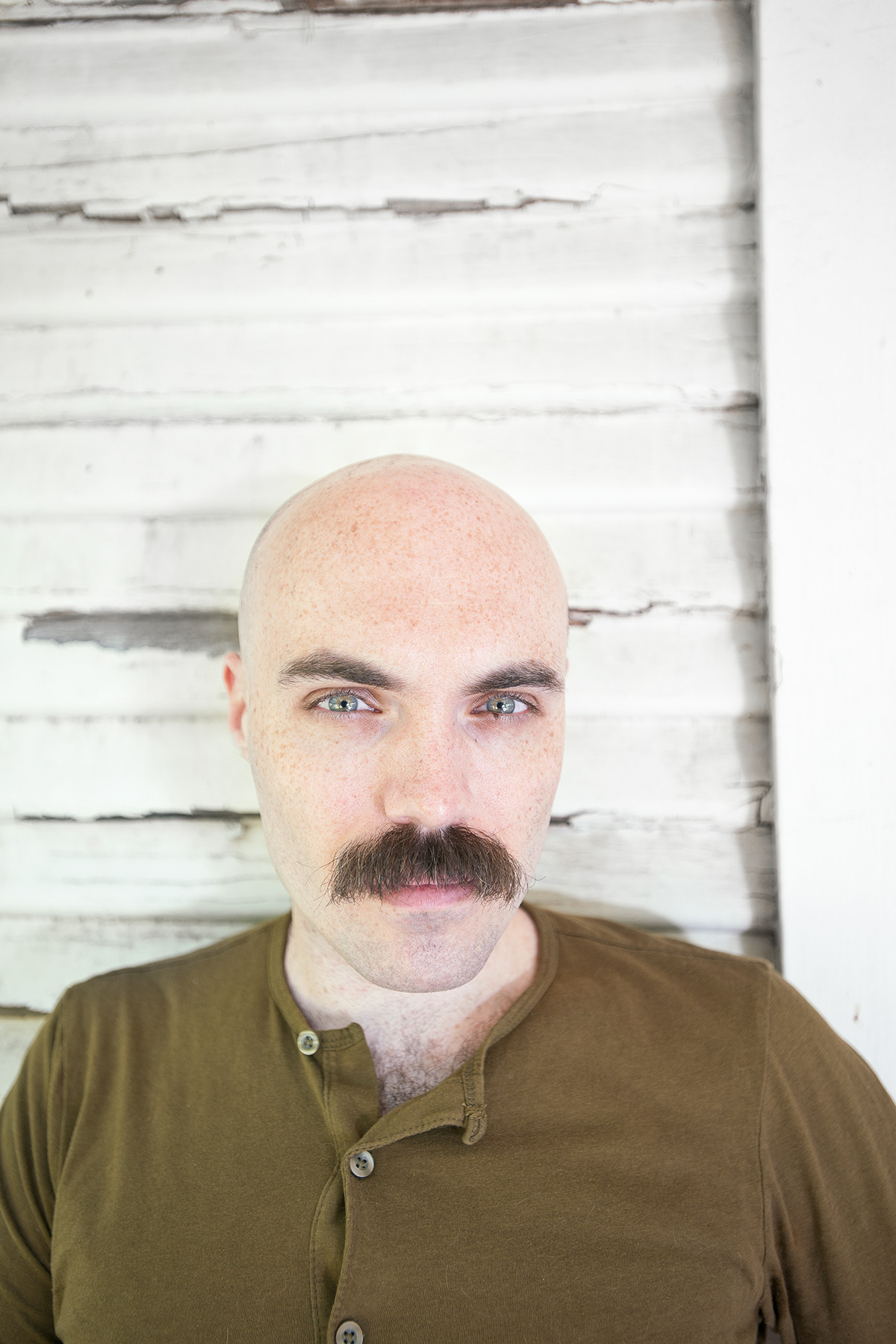 "And I expected to get it a day later," she says. "But he sent it that night. That started this correspondence between the two of us."
Over the next six months, they developed "this old-fashioned courtship," as they both put it. Facebook messages turned into emails. The emails became handwritten letters. Those grew into care packages and mix tapes. "I was smitten," she says. "I was completely in love with him."
"Eventually, I went to visit her in Dallas and that was that," David says. Two weeks later, they were engaged. A year later, they were married.
In David, Augustine found someone she could tell anything. But still, she was holding something back from him. She felt inadequate, insecure, particularly because David had so much more experience. It was difficult for her to even admit it to herself: she wanted to make a film.
Acting had never been a passion for her, and it wasn't fulfilling anymore, if it had ever been. She was more interested in telling her own stories. Only later did Augustine see that she had been more or less making short movies for years with Atheena and her friends, usually improvising scenes, shooting on cellphones or a little camcorder and cutting them together on iMovie. But, OK, maybe that didn't feel real enough. Not if you're married to someone who had been making movies for years and had already directed a full-length feature.
"I remember being embarrassed to say it to my husband," she says. "But finally, casually, I was like, 'I have this idea. It would be so fun.' And he was like, 'That's a great idea. You should just make it.' I realized from that moment how supportive he was and he wasn't going to make fun of me and be like, 'Honey, you don't know what you're doing.' Instead, he offered a lot of wisdom and advice."
Augustine had David's support, but little else. She felt defeated before she even began. David reminded her that she had been working on other projects for free for a long time. And she had: not just acting, but working in the costume department, or helping with production design, or just being a production assistant. "Anything I could do to get on a set," she says, "just because I loved it." He said that if she asked people for help, they'd do it.
They did. Augustine got a crew together and made her first film, Clean, in which she starred alongside David and Atheena. The shoot took just 16 hours. That was plenty.
"I was immediately hooked," she says. "I just remember laying in bed and being like, 'I did it. I made a film.' And David's like, 'I know! It's so great!' And then the next day, still: 'Remember yesterday, when I made my first film?' I immediately wanted to do it again. And so then I realized: if you write your own material, you can do it again. You just keep writing and then people will keep helping and then eventually you can find money and, you know, it just keeps on going."
Augustine had only intended to make another short film in the fall of 2014. She had the idea for Never Goin' Back, and she had some scenes. But she didn't have a script yet.
Her plan was to get a grant from the Austin Film Society. She already had a script for a short. But before she could finish the application process, a trailer came out for a film that she says was "shockingly similar" to her script. Augustine was worried that people would think she had copied it.
"So, I was just like, fuck it, I'm just gonna make the feature," she says.
She found out that her application had been approved around the same time she learned that David would be going to New Zealand in November 2014 for six months or so to shoot his remake of Pete's Dragon for Disney. The deadline for entry into the South by Southwest Film Festival—where one of her shorts had played earlier in the year—also loomed. Since she planned to go to New Zealand with her husband, everything pointed to her making the film right then, whether it was ready or not. And it definitely was not. "Up until a few days before we were shooting, I was still finishing the script and rushing the process," she says.
Augustine could tell on set that she wasn't making the movie she wanted to. The feeling only deepened when she cut it together in New Zealand, trying to make the South by Southwest deadline. As she watched what she had filmed, she thought if Never Goin' Back made it into the festival, it would be nothing short of a miracle, and, at the very least, she would need to do re-shoots to make it work. It also might be a mistake, because there were parts of it she hated, and they couldn't be fixed.
She showed a rough cut to David and his producing partners, James Johnston and Toby Halbrooks. They were polite and encouraging, and offered potential fixes. David, of course, was supportive. Finally, Toby told her what she couldn't tell herself. It couldn't be saved.
"You might get in to some regional festivals at best, and then your first movie is just gonna be a forgotten thing," Toby remembers saying. But, he said, there was a solid 15 minutes of strong material—including the burglary scene—that he believed could launch her career if she could make the rest of the movie like that. "You are going to be a big force in the entertainment industry," he told her. "This is really that good."
"And it was," Toby says now. "I wasn't blowing smoke. I was like, 'The comedy in these scenes is so good and the direction is so good that, if you want, I'll help you develop the script and then produce another version of this.' "
Augustine resisted the offer at first. She was exhausted and depressed and felt like a failure. But she saw that Toby was right: she didn't have to keep going. This didn't have to be her first feature. She had made a few bad decisions for the right reasons. She didn't have to make any more.
So she abandoned it and enjoyed the rest of her time in New Zealand, traveling and hanging out with her husband and daughter, not having to fret over deadlines or re-shoots or anything else.
"Then the week after I got back, I started on rewrites," she says.
It took a year and a half before she was ready to try again. During that time, Augustine re-shot a few things and turned her first attempt at Never Goin' Back into what she had set out to make in the first place: a short film.
She titled it Minor Setback.
---
Augustine is telling me a story as we sit on the patio of Little Dom's, a cozy Italian restaurant in Los Feliz, near where she's been staying in L.A. while preparing to shoot the Euphoria pilot for HBO. The story is not about what it sounds like at first.
She and David went to the Czech Republic last July, for a festival in Karlovy Vary where David's film A Ghost Story was playing. The organizers decided the couple should have an excursion to Prague while they were there. "They put us up in this crazy nice hotel, and Guns N' Roses was staying there at the time," she says.
The window of their room had a view of the entrance and exit of the hotel. The night of the Guns N' Roses concert, Augustine watched trucks pack up people and leave, until there was only one big SUV left.
"This guy came out, and he had long hair, and he was kind of bigger­—just this old dude," she says. "He got into the thing. I was like, 'I wonder who that is.' Then I realized: 'Oh, fuck, that's Axl Rose.' Like, he's fucking old, and big. I looked it up online and it was him, but it was such a mindfuck. In my mind, he's like, 'Welcome to the Jungle.' But he still had the bandana and the long hair and all that stuff anyway."
She thinks about it for a second. It's Mother's Day, a week or so after we first spoke on the phone."Aging is partly awful, but also I'm grateful," she says. "Aren't you? Every year, you're like, I keep making it. I keep getting older."
That is the perspective that allowed her to ditch an essentially finished film and begin again. But we don't discuss that much on this night. The more relevant part of the above quote is "Aren't you?" Over the course of a three-hour dinner, Augustine and I talk more about me and my story—my son, my ex-wife, my dating history, my parents, and, my god, my ex-wife's parents—than hers. Every time I try to change the subject, steer the topic of conversation back to her or her film or anything else, she keeps us right there, saying, "No, tell me everything," or, "I need as many details as you can give."
"You just keep writing and then people will keep helping and then eventually you can find money and, you know, it just keeps on going."
It's easy to fall into this pattern with her. Augustine is a great storyteller, but she is an even better person to tell a story to, an attentive listener, her bright, blue eyes widening and narrowing with every twist and turn like she's in a silent film. More than that, she creates an immediate, easy sense of connection. She greeted me with a hug on the corner outside Little Dom's, in a black sweater and jeans, her red hair pulled back after a long day of meetings and location scouting. It's the first time we'd met in person, and before we'd even reached the hostess, we were deep into a conversation about her daughter's trip to Europe, as if we were picking it up from earlier. It's a useful skill to have as a director, sure, but also as a human.
I manage to keep the focus on her a couple of days later at Euphoria's West Hollywood production headquarters. Maybe it makes more sense here. With bare white walls, industrial carpet, and haphazard furnishings, it has the ambiance of a strip-center doctor's office that is either in the process of being moved into or out of. It was in a place like this where Never Goin' Back was reborn.
At Disney's Burbank studios, where David was editing Pete's Dragon, Augustine and Toby broke down her script to rebuild it. She lent even more of her life to it, like an incident that happened in a grocery store in New Zealand. A shopper called Atheena, who was about 16 then, a thief for eating a few nuts from the bulk bins, and Augustine went off on him. It became a crucial scene in the script, connecting the beginning to the end.
The rewrite process was helped by the fact that Toby never saw the first version of her film as a failure. To him, it was like extended pre-production. "Bands go make demos before they go to the studio," he says. The potential hit single in that batch of demos was the burglary scene: "It was all just so perfect, and I was like, 'Dude, why didn't you do this every day?' "
As Augustine finished new pages, she would send them to Liz Cardenas, her friend and producer, who would make notes. They met while Augustine was making I Was a Teenage Girl, both actresses trying to transition into behind-the-camera roles. Like Augustine, Liz had known that the first version of Never Goin' Back wasn't quite working, even as they shot it. "You're constantly with that feeling of, 'It is what it is. This is all we have.' " But the idea of redoing it from scratch never occurred to her. How would they do it? Why?
She got it when she saw the finished script. Liz had always been fascinated with her friend's stories about growing up, an upbringing so foreign to her own. "I'd be laughing hysterically and then I'd be like, Whoa." All of that was finally there on the page. The plot was the same: two dead-broke, dead-end 16-year-old high-school dropout best friends try to avoid getting fired and being evicted before a "dream" beach vacation in Galveston. But Augustine had made it both more ridiculous and more real.
Still, they had to get it all on film. With the absence of a deadline and a slightly larger budget (but not much—around $200,000), the production came together in a way that wasn't possible before. Augustine made it a priority to meet with as many women as possible when she assembled her crew.
"I think it's really easy, because there are so many more men, to just be like, 'The first five people that were referred to us—let's meet with them,' " Augustine says. "No. Let's meet with those five people, but then let's find five women, too, to add to that mix." She hired Greta Zozula to be her director of photography, Courtney Ware as editor, and Olivia Peebles to handle production design. And, of course, Liz was on board, too.
The combination led to a different energy during filming, not just because there were so many women, but because they were all at the beginning of something. "There were a lot of firsts happening," Courtney says. "This was Greta's first feature that she was DP on. This was Olivia's first film that she was production designer on. This was my first feature film to edit all the way through that wasn't my own project."
It was also still Augustine's first feature. But she was ready this time. She knew exactly what she wanted and how to get it. She'd wanted to use the actual house in Garland where she lived with Jami and Daniel, but it was occupied. But she did use the same box that she and Jami used to hit each other in the face with, during a flashback sequence when the girls are going through past schemes to get out of their jobs at a generic pancake house. (Atheena, now 19, shows up there, as a rival waitress.)
But there would be no surprises this time. Greta moved in with her during the shoot, filmed mostly in Fort Worth. They came up with a short list of references for look and feel—Boogie Nights, Dazed and Confused, The Big Lebowski, Thirteen­—and tightly choreographed each shot and every day of filming. Courtney was on set, assembling rough cuts of scenes as soon as they were finished filming them, so they knew what they had all along.
Soon enough, everyone else would, too. No more setbacks. No more new starts.
---
Augustine's career is thriving before Never Goin' Back is even in theaters. After four years and two tries, it will finally arrive on August 3, distributed by indie heavyweight A24, the company behind Moonlight and Lady Bird.
A24 probably doesn't have another coming-of-age Oscar nominee on its hands, but that was never what Never Goin' Back was supposed to be, even if its back story and gauzy opening shot of its two leads lend themselves to that idea. Augustine subverts that notion almost as soon as the scene begins, when one of the girls rolls over to reveal a penis drawn on her cheek.
Never Goin' Back is a perfect end-of-summer movie, the kind of film that will one day pop up on your Netflix menu under "Late-Night Comedies," falling somewhere between a minimum-wage take on Superbad and a light-hearted Thelma & Louise. A24 picked it up between its debut at the Sundance Film Festival in January and its appearance at the South by Southwest Film Festival in March, where a Variety review called it "a delightfully irresponsible—but also refreshingly generous­—girls-gone-wild romp."
Based on that, HBO signed up Augustine to co-executive-produce and direct the pilot for Euphoria, a teen drama starring Zendaya, Maude Apatow, and A Wrinkle in Time's Storm Reid. She started filming on June 1. When she's done with that, she'll leave for Never Goin' Back's press tour and then onto her next project.
"It's like getting your movie started, and then doing the first portion and being like, 'All right, I'm done—I couldn't do it,' " she says. "But at the same time, I'm really excited about my next project. I think part of me is like, I need to know that I have something else so that I don't feel like I'm missing out on this thing."
The next something else: she is "currently in development on a film with a major studio." Augustine can't reveal all the details yet because the contracts haven't been signed. She's also attached to another project in development that even less can be revealed about, and has finished two more scripts.
Because of all this, Augustine and David's relationship has flipped. "We're having a full-on role reversal in our lives right now, where I'm here in L.A. working and I'm calling him venting," she says. "And he's home telling me how he's got a cat in his lap and he's drinking hot tea."
It's another new start in a lifetime full of them. And her husband couldn't be happier about it.
"It's so incredibly satisfying to watch her flourish in the way that she has," David says. "Partially because I love her and I love seeing her succeed, but also because I know how long she's been working at it and how much she cares, and to see that care and perseverance pay off is never not satisfying. I feel like our relationship is better than ever now that we're both actively directing things, because we both understand what the other person is doing and going through, experiencing on a daily basis."
Augustine Frizzell isn't on her own anymore. And she won't need anyone to hit her in the face with a box anytime soon.
Get the D Brief Newsletter
Dallas' most important news stories of the week, delivered to your inbox each Sunday.
Author
Zac, senior editor of D Magazine, has written about the explosion in West, Texas; legendary country singer Charley Pride; Tony…